Brief object description
Object number: 2004.1204
Owner: Horniman Museum and Gardens
Probable date: First half of 19th c.
Photo credit: Angelica Isa
Image reproduction permission: Horniman Museum and Gardens
The bell lyra is commonly used in marching bands and therefore played upright by attaching it to the waist of the player by sitting on a spike held by a strap. However, this particular instrument is extremely heavy and playing in this traditional way would be very difficult. It is more likely that this particular bell lyra would have been placed on a fixed stand in a sitting band.
Based on the Hornbostel-Sachs instrument classification, the bell lyra comes under the main term 'idiophone' – which means that sound is primarily produced by the vibrating body of the instrument itself rather than a string, membrane or column of air. The instrument emits sound by the player striking the instrument with immediate mechanical devices, in this case non-sonorous objects such as beaters. More specifically, it is a metallophone, since it consists of tuned metal chime bars.
State before conservation
Photo of bell lyra before conservation
The main body of the lyra displayed a small amount of superficial dust and small spots of corrosion. One of the metal bases for the iron chime bars was slightly loose.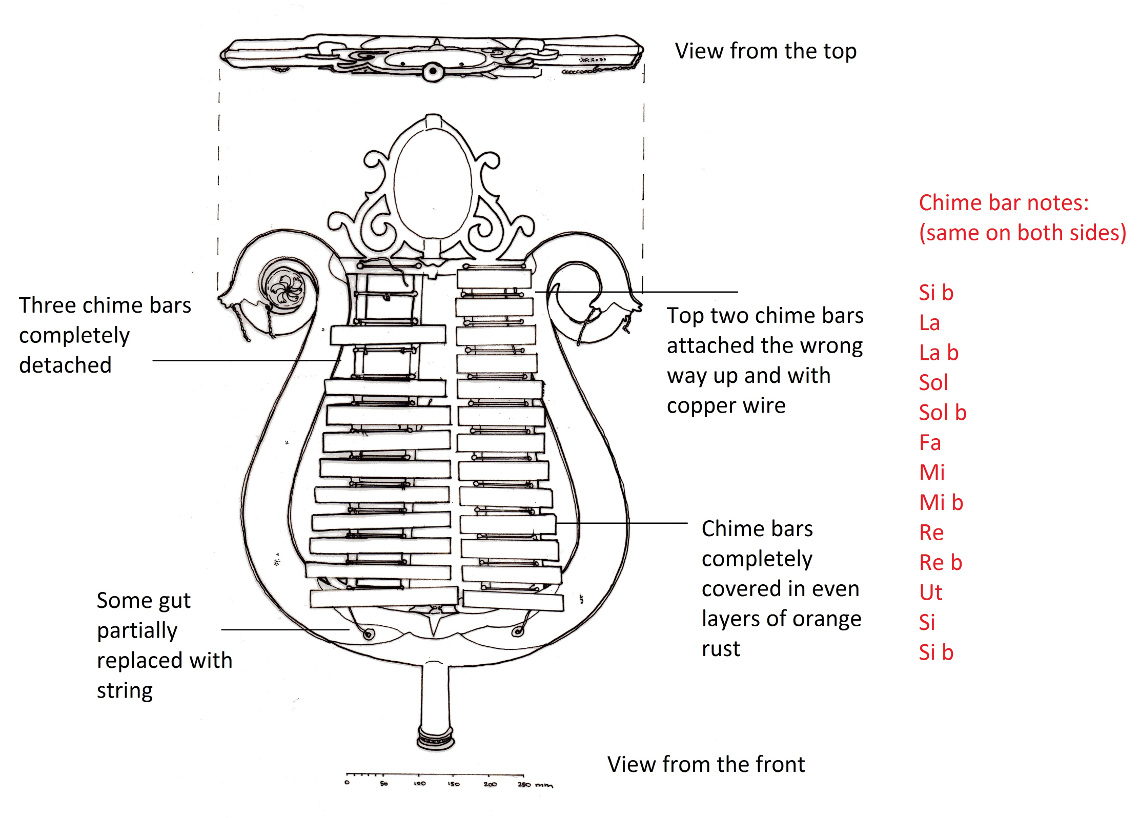 Labeled drawing of the Bell Lyra before conservation
The chime bars were slightly rusted and most of the original cat gut string holding them was no longer there. Three of the bars were completely detached. One of the flower ornaments had been lost at a unknown point in time.
Loose, rusted chime bars and missing cat gut string
Conservation process
After an X-ray examination of the object to understand its construction, some X-ray fluorescence analysis to confirm the metal alloys used in it, and a quick Biuret test to identify proteins in the gut used for the strings, it was decided that a general clean, structural stabilisation and missing flower ornament reconstruction would be the appropriate treatment.
Cleaning tests. Scalpel vs. abrasive bar.
Casting tests for the missing flower ornaments using silicon moulds and different supports.
Checking cast flower on object.
Using nylon string to support chimes
After conservation process
The bell lyra after conservation.The replica flower ornament (on the right in the photo) was made to be removable and can be easily pulled out.
The bell lyra in its padded box after conservation.
Since the object would be going back into storage, a special bedding was created within its box in order to protect it.
The chime bars were tied down with cotton tape to limit their movement. The edges touching the main frame of the lyre were covered with acid free tissue paper to avoid abrasions.
Acknowledgments
This conservation process was carried out in 2013-2014 with the generous guidance of the staff at the Horniman Museum and Gardens, in London. In particular, I would like to thank Dr. Margaret Birley, Keeper of Musical Instruments, Mimi Waitzman, Deputy Keeper of Musical Instruments and Dr. Louise Bacon, Head of the Conservation Department.