Brief object description
Object number: N/A Owner: Beamish the Living Museum of the North
Probable date: 1890s-1980s, UK
Photo credits: Angelica Isa and Jeff Veitch Image reproduction permission: Beamish the Living Museum of the North

Unfortunately, the exact origin of this sign cannot be defined as it was not registered in the Beamish collections when it was generously given to me to practice on as a student project.
However, it may be assumed that this sign would have been used in the northeast of the United Kingdom as it would be unusual for it to have travelled far before it was acquired by the museum.
According to Alford, the Capstan brand was very popular in the north east of England and in Scotland (Alford, 1973:359), so it would be reasonable to find advertising for it in those areas.
The Wills Company began with Henry Overton Wills, partner in the tobacco firm of Wills, Watkins & Co. in Mary-le-Port Street and Redcliff Street in Bristol in 1786. The name of the company changed to W.D. & H.O. Wills in 1815 when Henry's sons, William Day and Henry Overton Jr. took over.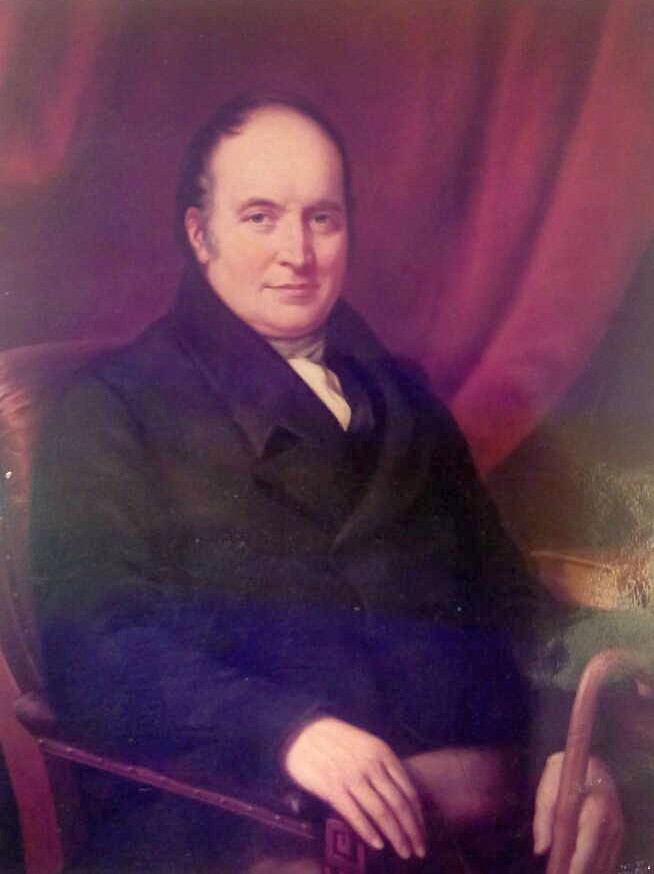 Henry Overton Wills I. Source: Wikipedia.
The Wills Company launched the Woodbines brand in 1888 and sold it at a price of five for a penny. The Capstan brand was trademarked on August 3rd 1888 (Ipo.gov.uk, 2013).
In 1901, Wills amalgamated with other British tobacco manufacturers to form the Imperial Tobacco Company, and the Wills tobacco brands continued until 1988 when all but Woodbine and Capstan were withdrawn from the market.
This information allows us to estimate a potential period of use for this object of almost 100 years.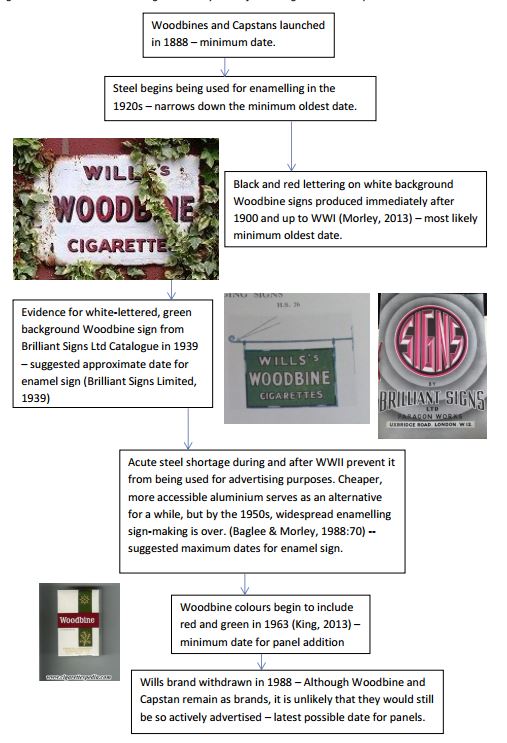 Narrowing down dates for the sign showing that the most likely years are 1900-1960 with outside panels at least from 1963.
State before conservation

Enamel sign before conservation. Photo credit: Jeff Veitch.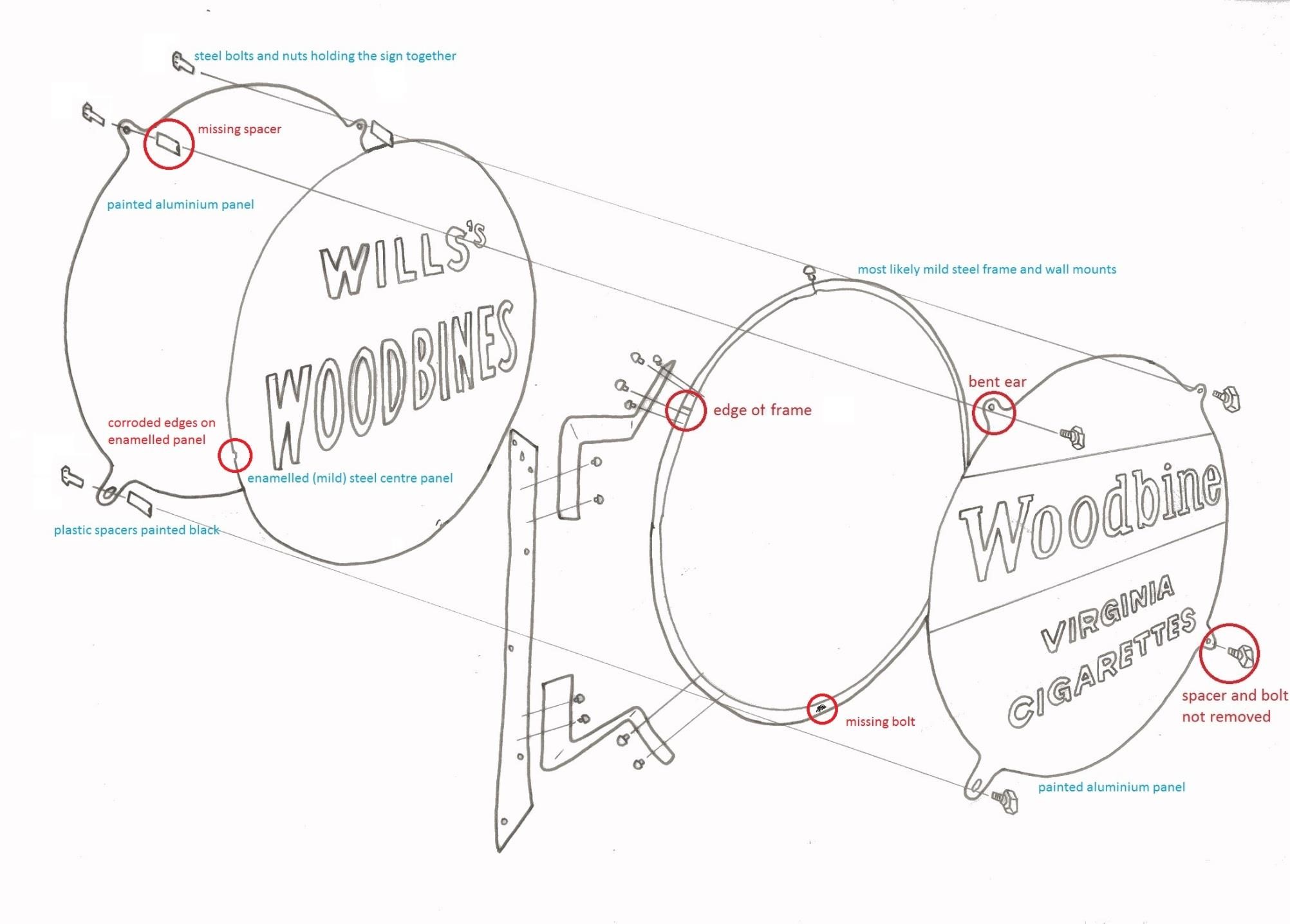 Exploded diagram of the sign construction. Central enamelled sign surrounded by steel ring and two added aluminium panels.
The state of the enamelled sign waas excellent. There was very little corrosion on the ring and steel mount. Part of the black paint had pelled off, showing a layer of white paint below.
The enamel on the main panel was almost perfect, with very few scratches and minimal damage on some of the white lettering.
The external aluminium panels were in good condition with only a significant layer of superficial dirt.
Conservation process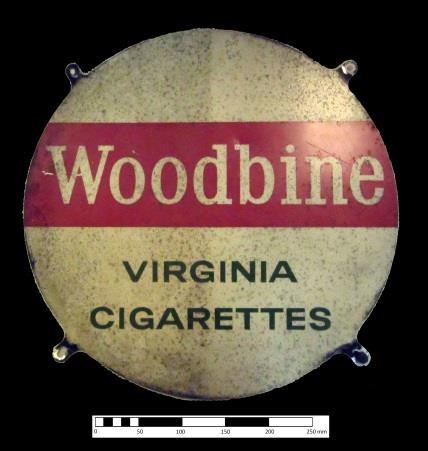 Front. Right side cleaned.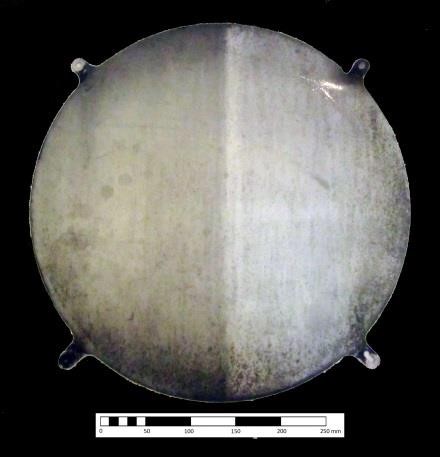 Back. Right side cleaned.
Since the aluminium panels were mostly just dirty, a superficial swab cleaning was enough. The edges of the panels showed sprays of black paint from the mounting and were not removed as they constituted part of the object's life history.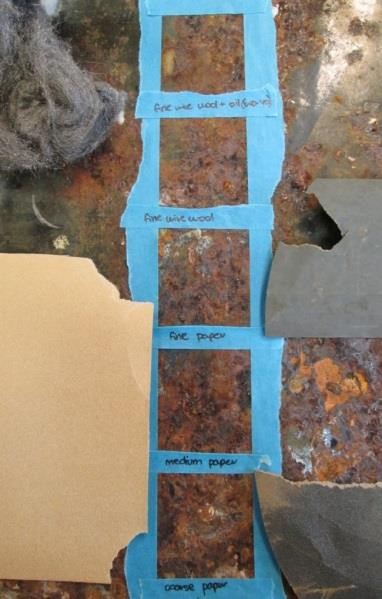 Sanding tests on an old piece of iron before testing a rust converter.
In order to protect the exposed parts of the steel frame from continued corrosion, tests were run on a separate piece of iron, sanding down the surface and trying out various rust converters.
After conservation
The sign was returned dismantled and packed in protective padding.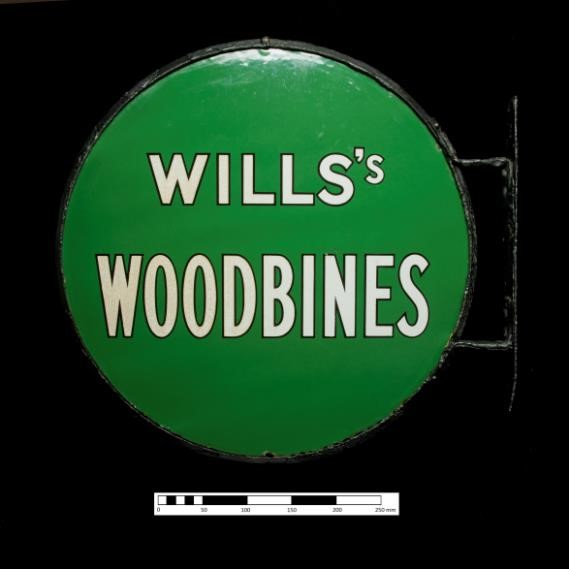 Enamel sign after conservation. Photo credit: Jeff Veitch.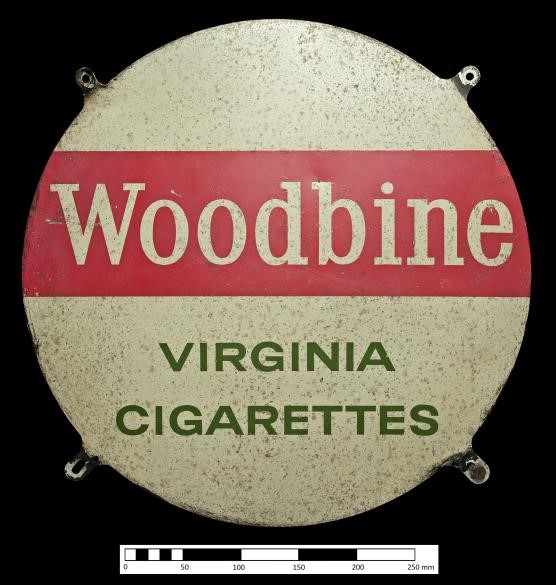 Woodbine aluminium panel after conservation. Photo credit: Jeff Veitch.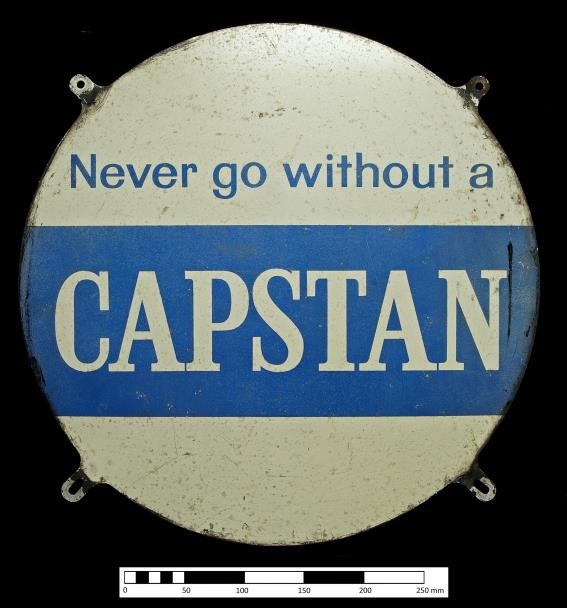 Capstan aluminium panel after conservation. Photo credit: Jeff Veitch
Bibliography
Alford, B.W.E. 1973. W. D. & H. O. Wills and the development of the U.K. tobacco industry 1786-1965. Chatham: Methuen & Co. Ltd.
Baglee, C. and Morley, A. 1988. Street jewellery. New Cavendish.
Ipo.gov.uk. n.d.. Intellectual Property Office - Welcome to the Intellectual Property Office. Available at: http://www.ipo.gov.uk/ [Access: 1 Jul 2013]
King, A., andy.king@bristol.gov.uk 2013. Conservation Enquiry: Wills's Woodbines and Capstan. Email message to Isa-Adaniya, A. (a.b.isa-adaniya@durham.ac.uk). Sent 25 Jul 2013.
Acknowledgments
This conservation process was carried out in 2013 with the generous guidance of Chris Caple (Durham University), Jennifer Jones (Durham University), Clare Hucklesby (Durham University), Richard Allen (Durham University), Jeff Veitch (Durham University), Dan Hudachek (Beamish Museum), Andrew Morley (Author of 'Street Jewellery'), Andrew King (Bristol Museums Galleries & Archives), Ann Bradley (Bristol Record Office), and Imperial Tobacco Ltd.